Thalamus Anatomy and Connectomics Conference
A two-days hybrid conference with talks and discussions
October 30 and 31, 2023
The Thalamus Conference aims to extend the dialogue and discussion on the thalamus that began with the previous online Thalamus e-Symposium organized by TANGO.
---
Immerse in the intricate thalamus
All sensory, motor, and limbic information to the cortex passes via the thalamus. Furthermore, the interaction between various cortical areas also requires a thalamic engagement. Therefore, we need a better understanding of the human thalamus and its connectivity in health and disease.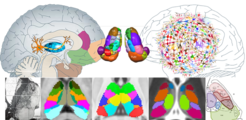 ---
The conference will cover topics related to the thalamus, including:
Anatomy and connectivity of the thalamus
The role of the thalamus in sensory processing, attention, and cognition
Thalamus in various neurodegenerative disorders and psychiatric conditions
Computational models of thalamic functions
Novel imaging techniques and application to the study of the thalamus
The conference will attract a diverse audience of neuroscientists, clinicians, and computational modelers interested in the thalamus. Attendees will benefit from the opportunity to engage with leading experts in the field, learn about the latest research findings, and exchange ideas and knowledge.
---
Registration
Since this is a hybrid meeting, you can choose whether you would like to participate on location or virtually only.
Register for on-site participation
Register for virtual participation
---
Submit your research abstract
Young researchers: We are eager to listen to your exciting research. Please submit your research abstract (500 words, maximum of three figures) to vinod.kumar@tuebingen.mpg.de.
We will select ten young researchers to present (8 minutes of presentation + 2 minutes of discussion).