Living in Tübingen
People from more than 140 nations live in Tübingen. Tolerance is very important to the residents. The city has an environmentally conscious image and many people feel connected to nature. Modern young neighborhoods such as the French Quarter have been awarded the German and European City Prizes.
Traffic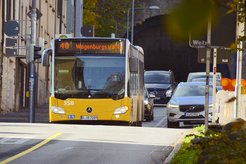 Tübingen was the first city in Germany to introduce free public transport on Saturdays. Currently, 38 bus lines serve around 20 million passengers a year. The bicycle is one of the most popular ways of getting around in the university city. Around a quarter of all journeys within Tübingen are made by bicycle. In addition, there is an attractive municipal car-sharing service that allows people to remain flexible even without their own car.
Living
The principle of ecological responsibility also applies to building and housing in Tübingen. Instead of overdeveloping open countryside, the university city of Tübingen primarily uses brownfield sites, vacant lots and gaps between buildings that are located within the city. In recent years, numerous new residential areas have been built in line with the principles of sustainability and modern living. The Welcome Officers at the Max Planck Institutes support and assist new employees in their search for housing.
Daycare Center "Planckton"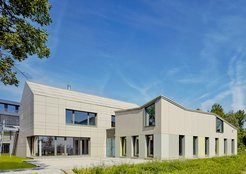 For employees of the Max Planck Institutes in Tübingen with young children, the "Planckton" daycare center offers daytime care by trained professionals. The facility is located in a traffic-free green area on the edge of the research grounds. The children's groups have an above-average international mix. By the way, there is also a place for children from Tübingen whose parents do not work at the Max Planck Institutes.