Career Opportunities at the Max Planck Institutes in Tübingen
The Max Planck Society is one of the leading organizations for basic research in Europe and is one of the top 5 global research organizations. We offer ambitious tasks with a high degree of personal responsibility and creative freedom in research laboratories, workshops, libraries as well as administration.
Young Scientists and Scholars
We develop outstanding young scientists with bachelor's degrees who want to find a start in research as quickly as possible.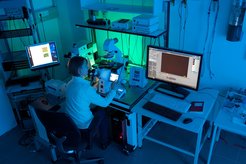 The total of 86 Max Planck Institutes of the Max Planck Society build on a wealth of experience when it comes to supervising and training doctoral students. They cooperate closely with universities, which officially award the doctorate.
Have you already completed your doctorate and you want to further qualify yourself for a management position in science, business or society? Or are you planning to start your own business? No matter what your goal is: As long as excellent research is part of your path, the Max Planck Society is the right place for you.
Apprentices
In the fields of electronics, information technology, mechanics, laboratory, animal care, administration and many other service professions, they experience first-hand the fascination of research - often in a project-oriented manner and in an international environment.
The Max Planck Society offers about 30 different apprenticeships to support scientists. A good 80 percent of the 86 Max Planck Institutes and also headquarters are involved in vocational training.