Venue
Annual Conference of the DACH-ISMRM 2024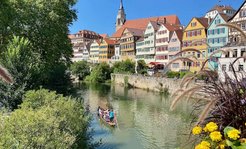 Step into the enchanting world of Tuebingen, Germany's hidden gem, where history dances with vibrancy. Tuebingen beckons you with its allure, inviting you to uncover its secrets, immerse yourself in its rich history, and embrace the vibrant tapestry of culture that weaves its way through every corner. Discover the charm, intellect, and sheer magic that make Tuebingen an unforgettable destination.
Arriving by Airplane
Stuttgart Airport:
The nearest airport is Stuttgart. After arriving, you can take the Airportsprinter (Bus 828) , which will take you directly to the main station in Tübingen with a journey time of about one hour.
Frankfurt Airport:
See "Arriving by Train" below.
... by Train
Intercity trains, including the high-speed ICE service, will bring you to Stuttgart main station, from where a local train takes about an hour to reach Tübingen. From here the Max Planck Campus can be reached by taxi (10 minutes) or bus (20 to 30 minutes including walking and waiting times). The bus station and taxi rank are both directly opposite the main exit from Tübingen station.
... by Bus
Starting at the main station in Tübingen with bus no. 3 in the direction of "Ulmenweg" to the bus stop "Max Planck Institute" it takes about 15 minutes to reach the campus. From the bus stop you need to walk about 100 meters downhill and then pass the central parking lot to the right and follow the stairways down to the Max Planck Campus.
Alternatively, you can take bus no. 4 in the direction of "WHO Ulmenweg" until you reach the bus stop "Corrensstraße" or "Niethammerstraße". Across the road from this bus stop, a flight of steps leads uphill through some trees. Follow these steps until you reach the street called Spemannstraße. The Max Planck Campus lies to your right-hand side. In both cases you have about a 5- to 10-minute walk from the bus stop to the campus.
Information about the bus schedule
... or by Car
Find the venue using the following GPS Coordinates:
Latitude : 48.535391
Longitude : 9.057437