Campus Advent Calendar
Of decorated mango trees, colorful underwear and enchanted places
The best way to wait for Christmas during the short, dark days of Advent is with an Advent calendar. Whether among children or adults, the Advent calendar finds many friends every year. Advent calendars are one of the most popular customs during Advent. They are real classics in the run-up to Christmas. With delicious chocolate, small gifts or – as in our case – digital: they are a big hit from December 1 to 24.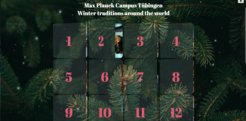 Go directly to the Campus Advent Calendar here: https://tuerchen.app/Max-Planck-Campus-Tuebingen
Traditions, markets and festivals make the Nordic winter varied and lively. Above all, the lives of our ancestors were determined by the rhythm of the seasons. During the cold and dark days, life used to be slower and quieter, leaving plenty of opportunity for new customs and rituals, inspired by the rural environment and nature. This time of the year, depending on the different traditions, is celebrated with lights, special dishes or drinks, all of which have the purpose of warming us and our hearts.
During the winter time in Germany we think of St. Nicholas, fragrant gingerbread, filled Advent calendars, fir trees and at the turn of the year colourful fireworks. But what traditions and customs are celebrated in the rest of the world, what festivities are celebrated and what food is served? From decorated mango trees, colourful underwear and enchanted places, international traditions have it all.
On our campus, we have gathered over 50 different nationalities. Every nation, every region, every culture has its own winter traditions. As different as these may be, they also unite us: one thing we all do is celebrate at this time of year.
This year's Campus Advent Calendar is all about these different traditions – we will take you on a journey around the world. Every day we will introduce you to a new tradition from a different country.
Enjoy!
German Advent Calendar: https://tuerchen.app/Max-Planck-Campus-Tuebingen-de
English Advent calendar: https://tuerchen.app/Max-Planck-Campus-Tuebingen