Research Location Tübingen
The university town of Tübingen is just 20 minutes from Stuttgart Airport. Tübingen offers a lively center with medieval flair and a rich cultural and arts offering: readings, concerts, international film festivals and markets ensure that life here is never boring.
Tübingen is a special place for science and research. Few locations offer such a breadth of research priorities in such close proximity. This unique research environment is ideal for scientific collaborations in many fields and is just one of the many reasons for Tübingen's success in the federal and state excellence strategy. Excellence attracts excellence: Over the years, more and more research institutions have settled in Tübingen, together forming the vibrant community of the Tübingen Research Campus.
University of Tübingen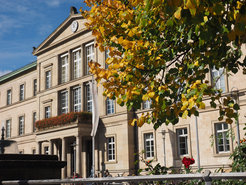 The Eberhard Karls University of Tübingen was founded in 1477 and is one of the oldest universities in Europe. It enjoys a high academic reputation both nationally and internationally, particularly in the fields of theology, medicine, law, and economics and social sciences. In June 2012, it was awarded excellence status under Germany's third University Excellence Initiative, which was renewed in 2019 as part of the Excellence Strategy. It is thus one of Germany's eleven universities of excellence.
With three successful clusters of excellence approved by the Excellence Initiative in 2018, Tübingen is also one of the three strongest universities in Germany in terms of research and is also the strongest university in Baden-Württemberg in terms of research. According to the DFG Funding Atlas 2021, which shows the universities with the highest DFG awards, Tübingen ranks seventh in Germany across all disciplines. According to the Times Higher Education World University Ranking, it was among the top five German universities in 2021.
Tübingen Research Campus
In the Tübingen Research Campus (TRC), the university and non-university research institutions join forces. The TRC partner organizations cooperate in scientific projects, share facilities and train young scientists.
The Tübingen Research Campus aims to deepen the coordination and cooperation of Tübingen's research institutions, to make Tübingen internationally known as a location for cutting-edge research, and to offer scientists conjunct services.
The TRC also offers services for researchers interested in making Tübingen their scientific and personal home. The Tübingen Neuro-Campus website is a hub for information about Tübingen's research profile and life in the city and Germany in general.
Tübingen Neuro Campus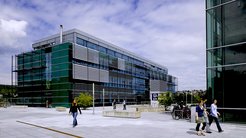 With more than one hundred active research groups, the neurosciences in Tübingen have the potential to be among the most successful neuroscience research locations in Europe. Neuroscientists pursue theoretical, systems neuroscience, molecular and clinical research approaches in their entire breadth using a variety of methods. The Tübingen Neuro Campus (TNC) helps to make optimal use of the site's potential in research, education and application.
The TübingenNeuroCampus was founded as an initiative within the Tübingen Research Campus. The TNC is intended to serve as an umbrella structure and communication platform connecting neuroscientific working groups and institutions in Tübingen. The main goals of the TNC are: to better identify and exploit synergies, to network neuroscientific working groups and institutions at the Tübingen site in order to promote scientific collaborations, and to incorporate new scientific and technological developments (e.g. in the field of artificial intelligence and machine learning).